6 - One-to-One and Recursive Relationships
Slide Exercises
Several Olympic events are team sports (e.g., basketball, relays) and some involve a pair of athletes (e.g., kayaking, rowing, beach volleyball)
A team can have a captain
A country has a flag bearer
There can be some husband and wife pairs at a games (e.g., Jared Tallent and Claire Woods from Australia)
Draw a data model to record these details

---
Find the names of employees in the same department as their boss.
SELECT wrk.empfname, boss.empfname, boss.deptname 	
  FROM emp wrk JOIN emp boss 
  ON wrk.bossno = boss.empno
  WHERE wrk.deptname = boss.deptname;
---
Design a database to record details of all Olympic cities
Recognize that a city can host an Olympics more than once, though a particular Olympics is only in one city at a time
Recognize that each Olympics has only predecessor and successor

---
Add details of the last three summer Olympics' cities.
Use SQL to determine which city was the host before London in 2008.
INSERT INTO city (cityName, cityNation) VALUES ('Athens', 'Greece'); 
INSERT INTO city (cityName, cityNation) VALUES ('London', 'United Kingdom'); 
INSERT INTO city (cityName, cityNation) VALUES ('Beijing', 'China');  
INSERT INTO olympics (olympicYear, olympicSeason, olympicNumber, cityName) VALUES (2004, 'Summer', 28, 'Athens'); 

INSERT INTO olympics (olympicYear, olympicSeason, olympicNumber, cityName, prior_olympicYear, prior_olympicSeason) VALUES (2008, 'Summer', 29, 'Beijing', 2004, 'Summer'); 
INSERT INTO olympics (olympicYear, olympicSeason, olympicNumber, cityName, prior_olympicYear, prior_olympicSeason) VALUES (2012, 'Summer', 30, 'London', 2008, 'Summer'); 

SELECT cityName FROM olympics WHERE olympicYear = (SELECT prior_olympicYear  
FROM olympics 
WHERE cityName = 'London'
AND olympicYear = 2008);
---
In a round-robin tournament, each contestant meets all other contestants in turn
In the Olympics, it is common for an event with a large pool of contestants to be broken into groups, with a round-robin tournament in each group to determine who advances from the group to the next level
Design a data model to record details of a round-robin competition

---
Model the following situations
Friendship
Course prerequisites
A matrix organization where a person can report to multiple people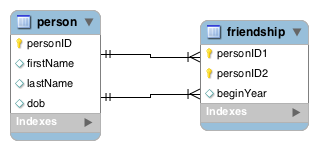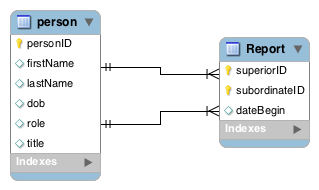 ---
INSERT INTO group (groupID) VALUES ('A');

INSERT INTO contestant (contestantID, groupID) VALUES ('AE', 'A');
INSERT INTO contestant (contestantID, groupID) VALUES ('GB', 'A');
INSERT INTO contestant (contestantID, groupID) VALUES ('SN', 'A');
INSERT INTO contestant (contestantID, groupID) VALUES ('UY', 'A');

INSERT INTO contest (contestantID1, contestantID2, score1, score2, contestDateTime) VALUES ('AE', 'UY', 1, 2, '20120726');
INSERT INTO contest (contestantID1, contestantID2, score1, score2, contestDateTime) VALUES ('GB', 'SN', 1, 1, '20120726');
INSERT INTO contest (contestantID1, contestantID2, score1, score2, contestDateTime) VALUES ('GB', 'AE', 3, 1, '20120729');
INSERT INTO contest (contestantID1, contestantID2, score1, score2, contestDateTime) VALUES ('SN', 'UY', 2, 0, '20120729');

SELECT count(*) FROM contest WHERE score1 = score2;
---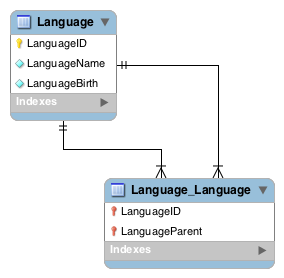 This page is part of the promotional and support material for Data Management (open edition) by Richard T. Watson
For questions and comments please contact the author
Date revised: 02-Dec-2022